News
NOVEMBER NEWS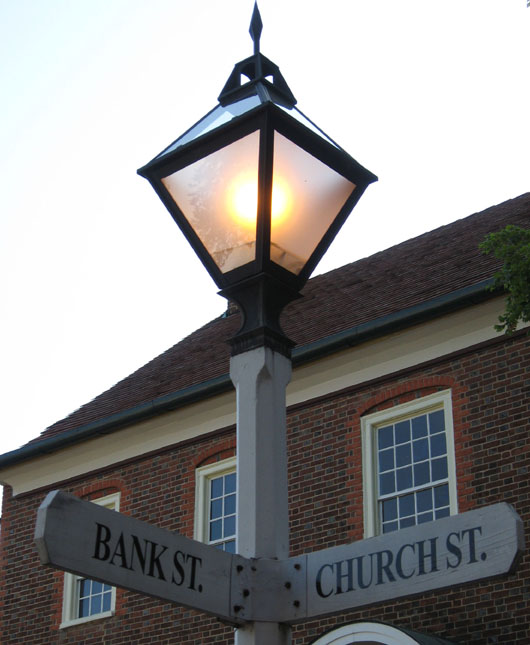 Salem Congregation is continually adding and updating information on the Salem Moravian Graveyard Page in an ongoing project to make the current records as complete as possible. Please be aware that information may periodically be updated.
ARDMORE MORAVIAN CHURCH CANDLE TEA
Children's groups are welcome Wednesday, Thursday, and Friday mornings, December 6th, 7th and 8th.  Groups must call to schedule morning tours.  Contact the church office (336-723-3444) to reserve a day and time.
Everyone is invited on Thursday evening, December 7th.  Tours begin every 15 minutes and take approximately one and a half hours.  First tour begins at 5:00 PM.  Last tour begins at 8:00 PM.  The Candle Tea is our gift to the community.  (No admission fee.)
The tour begins in the Sanctuary where visitors are welcomed, told briefly what they will be seeing, and sing Christmas carols.  Then they move to the Cookie Making demonstration.  As fresh aroma of the baking fills the room, visitors are shown how the thin cookies are rolled and baked.  Next is the Candle making room where the significance of beeswax, red trim, the light from the candle, and the Advent wreath are explained as candle making and paper cutting are demonstrated.  In the next room, Stars in various stages of production are on display.  The biblical scriptures about the star are discussed as Morning Star plays in the background.  In the Tin Room, the difference between tin, pewter and aluminum is discussed as "old timey" household utensils are shown.  The next room, the Putz, helps visitors to visualize the story of Jesus' birth and the wonder of that joyous Christmas.  The tour concludes in the Fellowship Hall with guests being served lemonade and cookies.
Craft and bake items will be available for purchase.  Proceeds help support the Candle Tea.
2017 EASTER SUNRISE SERVICE
The 245th Easter Sunrise Service was held on Sunday, April 16, 2017, beginning at 6:00 AM and was led by The Right Reverand Lane Sapp, pastor of Calvary Moravian Church.  Worshipers gathered in front of Home Moravian Church, 529 S. Church Street (at the corner of Academy Street and S. Church Street) in Winston-Salem to begin the service.  In reverent procession, worship continued as participants assembled in God's Acre for the conclusion of the service.
BELO HOME APARTMENTS
From time to time, there are studio and one-bedroom apartments available for rent to singles in the historic Belo Home at 455 S. Main Street. Lease rates may be based on an individual's income. If all are full, we have a waiting list and can call you when an apartment becomes available.  For more information call Salem Congregation at 336-722-6504 or email jtrivette@mcsp.org.
SIDEWALK REPLACEMENT IN GOD'S ACRE
Salem Congregation has completed a major project in the Salem Moravian Graveyard (God's Acre). The asphalt sidewalks in the old section of the graveyard have been removed and replaced with brick pavers. The look is absolutely beautiful and the new sidewalks look as though they have always been there.  When you can, please come by to see our beautiful sidewalks.
GREAT SABBATH MUSIC CD'S ARE STILL AVAILABLE!!!
The music of the 2012 Great Sabbath Service was recorded for the purpose of making a CD for all of us to enjoy and be blessed. Many hours of work were put in by Dr. Nola Reed Knouse, Frank Martin, and Drake Flynt to make this available. The CD, GREAT SABBATH CHORUS AND ORCHESTRA: Music for a Moravian Great Sabbath, is mostly Moravian music. The chorus and orchestra are under the direction of Drake Flynt of King Moravian Church and the organist is our Moravian sister, Mary Louise Kapp Peeples.  Copies may be purchased at the Salem Congregation office at 501 S. Main Street in Winston-Salem or email: jtrivette@mcsp.org or by telephone at 336-722-6504. Each CD is now $7.50. With Easter right around the corner, the CD would make a wonderful gift, but more importantly it will be a blessing to Moravian music lovers everywhere.
EASTER GRAVESTONE CLEANING AND FLOWER PLACEMENT
Did you know that Salem Congregation provides a service where you can have your loved one's gravestone cleaned and a flower placed at their grave each year at Easter? For a one-time fee of $1,000, we will provide this service each Easter for 30 years. If you live out of town or are unable to perform this service for any reason, this can bring you peace of mind knowing that this caring act is being performed. For more information, call the Salem Congregation office at 336-722-6504 or email jtrivette@mcsp.org and we will mail you an application.
THE WACHOVIA GARDENS
The Wachovia Gardens are grown on the site known as the Edward Belo property. Edward Belo grew flowers on the property in the mid 1800's. Many of the flowers grown by Mr. Belo were used in God's Acre for the Easter Sunrise Service.
The Wachovia Gardens were established in June of 2010 to promote genetic diversity and sustainable gardening practices. The gardens consist of heirloom fruits, vegetables and herbs. A colony of bees were added in 2011. The garden contains 25 heirloom apple varieties, 10 varieties of figs, plus apricots, plums, grapes and berries. During each growing season, over 100 varieties of heirloom tomatoes are grown along with other vegetables; beans, peppers, squash, greens, lettuces, eggplant, okra, sunflowers, carrots, beets, etc. All of the produce is donated to Sunnyside Ministries.
The garden is planned, planted, and maintained by a group of volunteers. Anyone who is interested in joining our efforts is invited and encouraged to join us on Tuesday evenings from 5:00 until dusk.  For additional information, contact carolloreewooley@gmail.com.
PETS ARE NOT ALLOWED IN THE GRAVEYARD
Although we love our pets, please remember that pets are not allowed in God's Acre or along Cedar Avenue. The "evidence" that is often left behind creates a health hazard to our water supply, a poor image of our graveyard as well as a hazard to mowing equipment. Please be respectful of this sacred place. Also be aware that City Ordinance Sec. 6-12 requires that you clean up after your pets.